Night Overdrive (2018)
Mika Tyyskä's debut album is a true DIY instrumental recording. Pure musical joy with melodic guitars, 80's style synth and odd machine beats. Kind of like Synthwave with heavy guitar, but different!
Inspired by John Carpenter, Schwarzenegger, Van Damme, Seagul… action movies! From hard rocking bad ass tracks to soothing atmospheres. Incredibly crunchy sound. All music was recorded on 4-track and 8-track tape recorders.
NIGHT OVERDRIVE TRACKS
01 Punch in - Punch out (3:37)
02 Van Damme Dance (2:09
03 Smash Hits 7 (3:29)
04 Harmonium Heart (2:06)
05 Driving with Mr. Carpenter (3:33)
06 Darwing and Water (3:01)
07 Night Crunch (3:04)
08 Black Coffee Rush (1:43)
09 Back to the Past (3:45)
10 Power Blob (2:26)
11 Feed Me Thrash (2:32)
12 I Respect this Moment (3:23)
13 Lake Ionian (2:54)
14 At the End of Tape (1:45)
EXCLUSIVE BONUS TRACKS (exclusively from
Sellfy.com/mikafastfinger
)
15 Press Play on Tape (1:39)
16 Whale Saver (3:09)
17 Merry Christmas Mr. Sakamoto (3:41)
18 My Name is (3:01)
14 tracks + 4 bonus tracks. 40 + 12 minutes.
Performed, Produced and Composed by Mika Tyyskä.
Mika Tyyskä / Elektrik Pyjamas © and ℗ 2018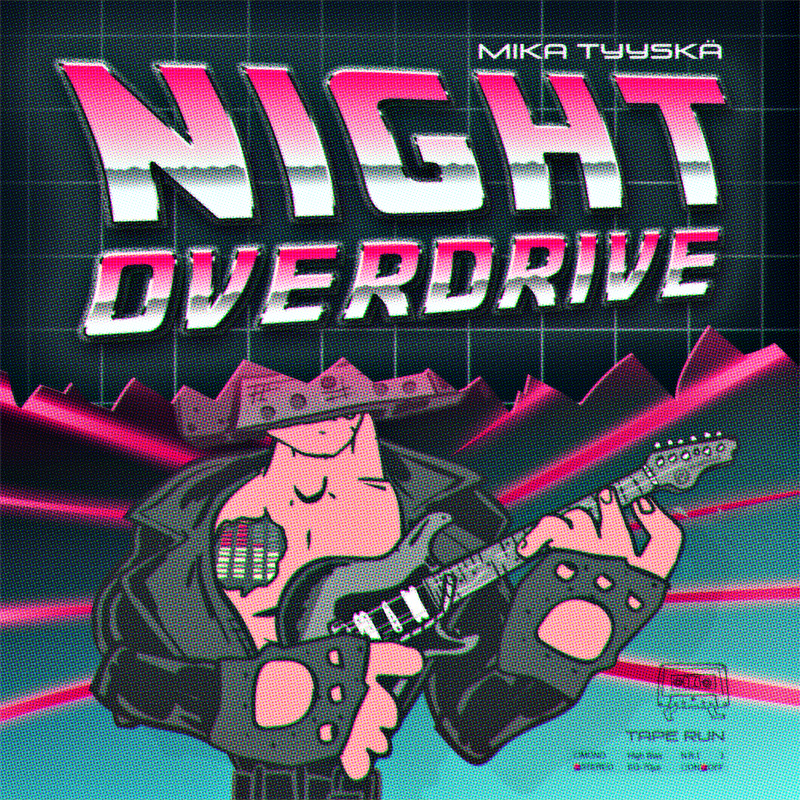 Smash Hits 7. We took some old glass windows to junkyard in the summer. I recorded the smashing sounds of the glass with my iPhone. I knew I had to use the sounds in a tune. Later I loaded the samples to my iPad and created this tune. While composing / recording this tune I thought the tune was becoming too cheesy but kept going.
Darwin and Water. This is one of the more relaxed tunes on the album. Was a non stop joy creating this one.
I Respect this Moment sounds like a title from a Mr. Fastfinger -album. Very simple tune but it has a great feel! This is the only tune on the album that I returned afterwards to make changes. I re-created the bridge solo parts, the original just didn't cut it.